is a monetary quantity given by a government, organization, or person for a
specific purpose.
Grant is a monetary quantity given by a government, organization, or person for a
specific purpose.
Salesforce NPSP can help you achieve following Key Performance Indicators with respect to grants –
Grants management and reporting saves time
Increase percentage of grants Won/Applied
Meet funds reporting requirements
Manage 360 view of each grant
Sources of grant funding for nonprofit organizations
Main sources of grant funding for nonprofits include the government, corporations, and private foundations. Each of the source is diverse with respect to subject matter, fund and the desired scope of submitted proposals.
Below mentioned tips can save your time and efforts in locating different grant sources
Your search criteria will be relevant by including key words like subject matter, target audience, geographic location, or other parameters that match your goals.
Identify the type of support your nonprofit is seeking: new program, general operation, etc.
Identify the grant funders who have an interest in your specific subject matter, and who can be your ideal grant source.
After identifying several promising sources of grants start your research by visiting funder's website, which gives insights about their prior grants. Familiarize yourself with their grant guidelines and make sure you can supply all the information they request.
For soliciting an individual donation, first thing you need do is-
Reach out to prospects who can be a potential donors
Communicate and Discuss to provide more insights
Grant Management
Grants are donations that typically comes from organizations and are usually paid out separately from when they are awarded.
Grants are often tied to specific programs and deliverables with important reporting and documentation deadlines that require management.
NPSP comes with several objects and fields that leverages your grant management on the Account object.
Once you get the information about the funder and its organization, using Affiliated Contacts, we can capture contact information about people working at same organization so that it helps you to engage those contacts.
Manage Grants- Create a Grant Opportunity
In the Non-profit Success Pack, Opportunity object is used to track the Grants.
In the navigation bar, click on Accounts Tab
Find the Account with which you want to associate the Grant. If you have not yet created an Account for the organization, create a new Account.
Click on Opportunities Tab > Click on New button > Select record type as Grant and Click on Next button
Enter the following information for your Grant record:
Opportunity Name- Name of Opportunity
Account Name- Name of Organization Account
Requested Amount- The amount you are requesting for the grant.
Stage- 
Select Prospecting. As long as you do not select a Closed/Won stage such as Awarded, you will be able to schedule payments for this Grant record.
It is important to track as to what all we have in the pipeline to know the probability of occurrence of a particular event.
| | |
| --- | --- |
| Sales Process | Selected Values |
| Grant | Prospecting, LOI Submitted, Application Submitted, Withdrawn, Awarded |

Close Date-
Select a date that indicates when you expect to receive the grant.
Campaign
Grant Requirements Website
Program Area(s) 
Grant Contract Number
Grant Contract Date
Grant Period Start Date
Grant Period End Date 
Depending upon the nature of the grant the steps for winning the grant can vary.
Deliverables: Tracking Deadlines and Communication with the Funding Organization
Deliverable records can be created for grant opportunities to track due dates, reporting requirements, and dates of submission.
Tracking the deadlines is very import part of the grant. Tracking due dates for some milestones, such as letter of intent and final applications, are important at the beginning of the process.
Funders often require you to deliver reports on your program's outcomes on a periodic basis. This too can be managed directly through Salesforce. The Deliverables object, part of the NPSP, makes tracking these types of events much more simple.
Deliverable object is customizable as per organizational requirements.
Documents can be uploaded into the Deliverable or Opportunity Record using the Files object. This can help your Grants team store and reference multiple drafts of any given deliverables.

Reminders for upcoming Due Dates
Deadlines are an integral part of grant management, from submitting deliverables to reaching spending goals by an agreed upon date.
If organization has multiple grants in the pipeline, it can be hard to keep track of all the tasks, which have deadlines approaching. The Task reminder feature in Salesforce provides a solution for keeping these deadlines in order.
Task reminders can be created as needed on Opportunity or Deliverable records, reminders can also be automated by using either a workflow rule or process builder.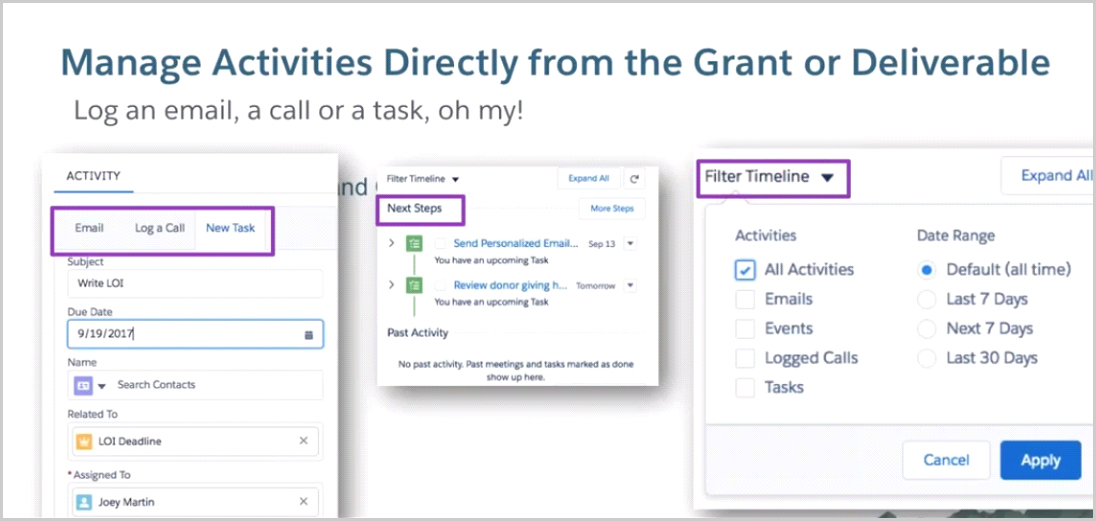 Having the tools to track stages, deliverables and deadlines of all grants can not only save your organization time but also improve the probability of opportunity to succeed and also to achieve your grant goals and communication needs.
After awarding the grant, we can also schedule the payments at fixed interval using Payment Schedule button on Payments objects [Opportunity Record Type – Grant]
Once a grant has been awarded, we can manage where to distribute the amount using General Accounting Unit object.
Best Practises for Grant Records
Update a Grant Record When a Grant is Awarded
Schedule the Grant Payments
Receive or Write Off Grant Payments
Associate a New Grant record with a Previous Grant
Best Practise for Grant Tracking: Chatter
Collaborate with staff on the Grant record
Get real time updates
Best Practise for Grant Tracking: Activities
Tracking of Activities on the Grant record
Log calls, Send Emails and Assign tasks
Visibility in chatter feed
Keys to Successful Grant Management
Plan Before the Grant Is Awarded
Organize actions from Implementation to Closeout
Design Effective Grants
Exhibits Strategic Planning
Develop a Comprehensive Grant Program
Review Other Successful Grant Proposals Online
Senior Leadership support
Defined Roles and Responsibilities
Salesforce NPSP as a Solution for Grant Management
Look for grant opportunities which is relevant in an updated database
Helps you to reduce paperwork
Track grant applications
Accounting support and tracking
Provide real-time updates on projects, resources, and financials
Improve team collaboration and communication
Solicit success stories which express the impact of your program
Data will be available at one place we can call it as centralized database
Online integrated forms
Automation and workflow
Dynamic reports and dashboards
Accessibility and Collaboration
Impact Reporting
Data transparency
Donor or grantor who gives grants often expects the transparency with interaction and transaction throughout their grant journey. Thus, it is precise to provide the expected degree of data transparency.
Data Centralization
Using standard and custom object, we can capture and maintain validated data at a central platform where such data gives insights about each grants and it management.
Collection of Timely and Consistent Data
Proposed solution is capable of capturing and maintaining dynamic data with respect to each grants and their management reporting. Thus, it will provide latest updated, validated and verified data.
Improved relationship with Grantors
Using standard objects and dynamic data reporting, we can gain trust of grantor and thus it will benefit to nurture relationship with them as we can ensure complete visibility and evidence of their grants.
Workflow Efficiency
Dynamic data reporting leverages the overall performance of the system. Also gaining trust of grantor and maintaining centralized data has boost the workflow efficiency
Managing Deadlines
An ideal platform provides complete functionality to manage and meet the deliverables at deadlines but providing timely reminders and tracking of grant process
Document Management
Every grant process involves number of documents throughout its winning journey and it is extremely essential to secure and store each document. Thus, this requirement of document mg tis highly achievable