No initiatives of the Institution can leverage only Institution but also all their constituents like Alumni. The more sovereignties Alumni receives through various initiatives, more they feel connected and engaged with their Alma- meter.
To accomplish such initiatives is major challenge for Institutions as they need to understand how these inventive actions or goals can drive their Alumni's engagement without compromising Institution's and Alumni's desires & expectations.
Institution needs to acknowledge the following triggers points which drives their Alumni Engagement towards their Initiatives-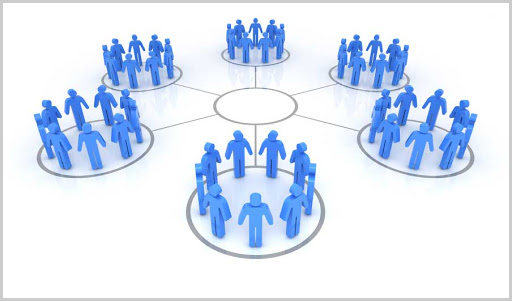 Recognition

: Alumni desires to get recognized for the contribution they make for the alma-meter. Recognizing and appreciating their work brings a sense of connection and will make them feel as a part of Institution
Initiatives
Alumni Awards & Certificate
Alumni Blog or Articles in Institution's Magazines, Newsletters
Alumni Section on Institution's Website
Gifting goodies as token of appreciation
Legacy: Alumni views to establish its legacy with institution they were part of, which leverages numerous scholarship programs for them as well as family members, friends or relatives
Initiatives
Alumni Legacy Scholarship
Legacy Affiliations
Willing to give back- Alumni truly appreciates with what they have gained from alma-meter & wishes to do something for the institution in return. There are different ways alumni can make his contribution.⦁ Willing to give back: Alumni truly appreciates with what they have gained from alma-meter & wishes to do something for the institution in return. There are different ways alumni can make his contribution.
Initiatives
Mentorship & Scholarship Programs for current students
Job opportunities
Training and Volunteering
Public Speaking & Guest Appearance
Grants and Donation
Experience Sharing
Passion/Interest- Many Alumni needs a platform to showcase their talents or passion amongst youth crowd. What can be a better option than the current students of their own alma-meter?
Initiatives
Music Concert
Book Launch
Carnival or Feast
Annual Gathering
Tutoring Programs
Workshops
Sponsorship/Partnership- Alumni aims to expand their business brands in which Institution can help them by marketing their brand as Sponsors or Partners.
Initiatives
Banner Ads
Institution Magazines
Posters
Goodies & Merchandise
Investments- Alumni who has interest in making investments, can be reliable to make investments into their Institutions, leading to its development and leveraging return-on-investments.
Initiatives
Innovation programs and workshop
Academic Plans and Reporting to Alumni
Token of Appreciation
Resource Requirements- Alumni working in corporate might require certain resources in their Organization or Alumni who runs their own company can reach out to the Institution for providing job opportunities for current students
Initiatives
Campus Placement Panel
Recruitment Programs
Referrals
Training
Ambassadors- Alumni can be Institutions International/National ambassadors with respect to their professional success, Artistic Caliber or public image
Initiatives
Ambassador Awards
Ambassador's Article in College Magazine
Publicity on Institution's Website
Business Idea- Alumni can generate new business opportunities by coordinating with their alma-meter. Example- Alumni who wants to conduct coaching Institution can approach Institution and give Tutoring to students to encourage them to enroll.
Initiatives
 Tutor Program
Guest Lectures
Job Offer at Institution
After acknowledging the driver or trigger points for Alumni towards their alma-meter, Institution must plan their initiatives accordingly. Following can be some initiatives an Institution must adhere to in regards to its development and relationship with Alumni:
Alumni Association/ Board/ Committee/Groups
In order to establish long-term Human Capital, Institution must build Alumni association committee or groups. These groups will be permanent human capital and throughout their journey Institution must provide all support & enables opportunities to build the human capital Institution aims to create.
Involve Alumni in Campus Life
Once Alumni pass out from Institution, they feel connected to the Institution when have awareness about major happenings and daily routine of their Institution. Thus, they must be involved in campus life be being informed about events, policies, innovation and various other approaches which Institution adheres.
Give more than you ask
Institution aims to achieve their own objectives and goals with building their Alumni Engagement. In order to do so, the offer numerous initiatives and opportunities to Alumni but institution should offer more than they ask for. The more offer institution provides, more in return they receive from Alumni.
Alumni Events
Events is the best way to upkeep with Alumni. From receptions and galas, to reunions and career networking events, there are endless ways to bring your alumni together and boost engagement. Thus, following 4 tips institution must cohere to boost Alumni attend such events:
Goals & Targeting– Before organizing the event Institution must set their goals by answering few questions like-

What are you trying to achieve with this event?

Are you looking to create a general gathering for all of your alumni network with one another and to reconnect with your institution? 

Are you celebrating a milestone and wish to engage your alumni by including them in the festivities?

What attendance rate do you want? 

Are you trying to fundraise for a specific cause? 
Once you know your goal, you need to ensure that you understand which of your alumni you are targeting
Alumni Incentive- Ideally, you should be providing your alumni with an experience that they would not be able to have anywhere else, or that gives them real, tangible benefit
Your event needs to provide them with some kind of real value, such as:
An interesting and/or influential speaker on a topic that they will connect with

A really attractive entertainment event that will draw crowds

A hands-on workshop or networking event to provide sought-after skills or connections
Promotion- You will need to ensure timely promotion that goes out well-ahead of time in order to build interest and follow up on registration. If you use a good alumni engagement platform, this element should be simple as your contact information will be updated and it is easy to segment your contacts and promote your event directly via the platform.
Follow-ups- Do not underestimate the need for personal follow-up in the days following the event. Every interaction should lead to another in order to scale your long-term engagement goals. Try to be as personal as possible.
Alumni Feedback- After every initiatives and approaches like Events, Institution must ask Alumni for their feedback and experience. Feedback can be positive, negative or both. This will prove to be key source of improvement for Institutions with respect to Alumni engagement strategic development.
Connect through Social Media- Nowadays the easiest medium to reach out to desired constituents like Alumni is social media. Social media provides different platform like Facebook, LinkedIn, Twitter or Instagram to connect with Alumni and promote Alumni Engagement Initiatives.
When Institution lists their initiatives and approaches for Alumni engagement, they must adhere certain principles (mentioned in following image) to endure that they are targeting right audience with right information and values at right time.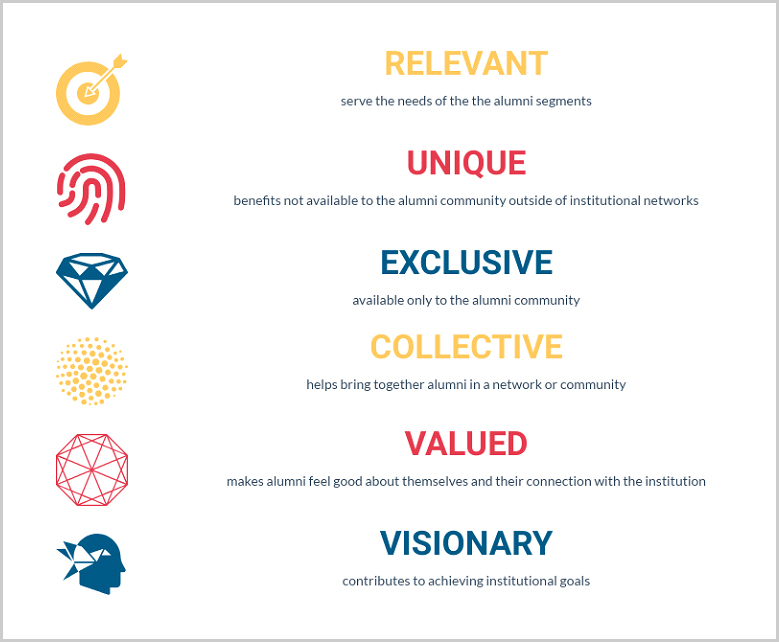 Source- https://medium.com/@CASE_Europe/alumni-relations-reputation-747a67b2fb56
Keys Points whilst creating Alumni Engagement Initiatives
Institution needs to brainstorm around the pattern or manner in which they can develop or create initiatives or approaches through which they want connect and nurture their Alumni relationships for long-term.
A suggested pattern known as Engagement Web gives an idea about how to build the alumni engagement platform. Remember, in this approach web is just a metaphor but it helps to productively reorganize the way we think about engagement by highlighting following few characteristics and benefits: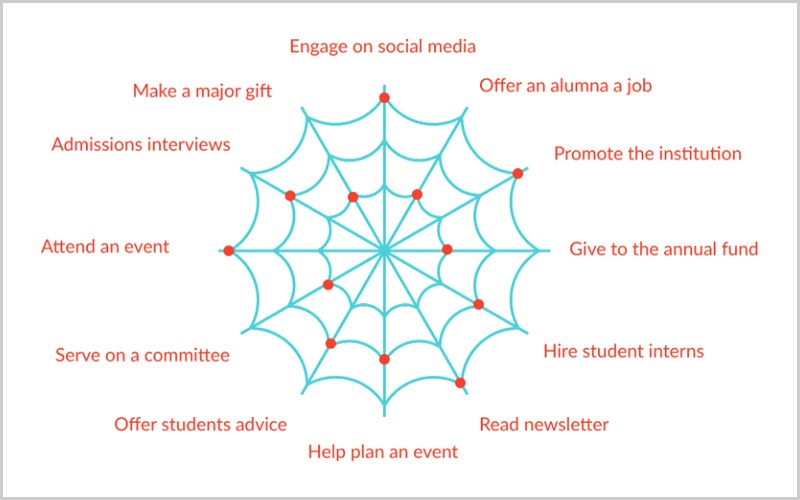 Source- https://switchboardhq.com/blog/want-to-engage-alumni-ditch-the-funnel-embrace-the-engagement-web
Multiple Entry Points- Alumni can start engaging whenever they feel like. There in so off limits to the medium through which alumni initiates engagement no matter their prior engagement history (if they haven't been engaging before). Institution welcomes constituents and encourages them to participate in everything they can offer.
It is satisfied with where Alumni are- Engagement web aims to support alumni so as to make them feel connected with Institutions committee. Thus, alumni are free to engage in whatever way they are comfortable with.
Meets with Alumni's needs- Alumni feel to contribute & engage with their alma-meter, when Institution first offers them something that satisfies their desires and needs. Such gesture benefits Institution needs to build alumni affinity. Thus, an Alumni won't feel pressure to pull out their checkbook but more valued & respected for being an Alumni.
It is sticky- Institution aims to satisfy long-term needs of Alumni and provide perpetual support, which leverages Alumni to stick with their Alma-meter. Institution can connect one alumni and to another, growing its connection and blooming Alumni Relationships.
It is resilient- In an Engagement Web; multiple initiatives can be source point for Alumni to engage. If one initiative fails, it won't affect the execution of another thus causing minimal damage to Alumni relationships.
Interconnectedness- Institutions can create chains of each alumni engagement initiatives and link them with multiple other to avoid any sort of drawbacks or gaps. Such mapping of initiatives points will also benefit to address any sort of missed opportunities.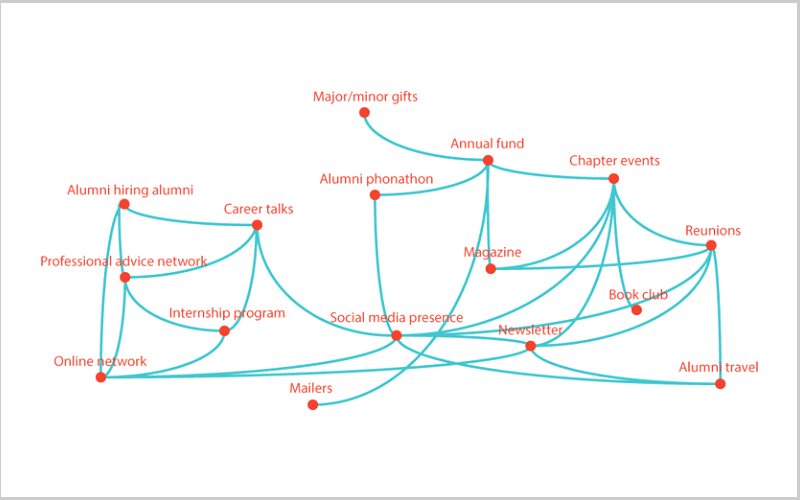 Source– https://switchboardhq.com/blog/want-to-engage-alumni-ditch-the-funnel-embrace-the-engagement-web