Thinqloud team expertise in the Real Estate domain – powered by Salesforce®
Benefits of Salesforce as CRM
Saves time and Effort

Easily customizable and scalable

Improved revenue generation processes

Improved Turnaround time (TAT) and Personalized communication Automation
Post Sales solutions for Real estate companies using Salesforce®
Medium to Large Real Estate developers in India struggles to deliver a hassle-free and effective Post Sales experience to their customers that impacts the credibility and overall business. 
We at Thinqloud have been working with some of the renowned RE firms and understand that what is lacking in their existing systems is the flexibility and scalability to make communications, changes, and updates much slicker and user-friendly. Building a loyal customer base requires Post-sales service strategies, which can be realized easily by using RE Post Sales solution powered by Salesforce.
Customer Journey
The journey of a customer in the Real estate sector begins as a Lead that is considered an Opportunity (Prospect) as soon as the customer visits the project site. And from there, the Salesperson shares the Pricing or Quotation of the property the customer has shown interest. 
A typical process overview is depicted in the diagram below and the dotted lines highlight the start point of a customer journey for Post Sales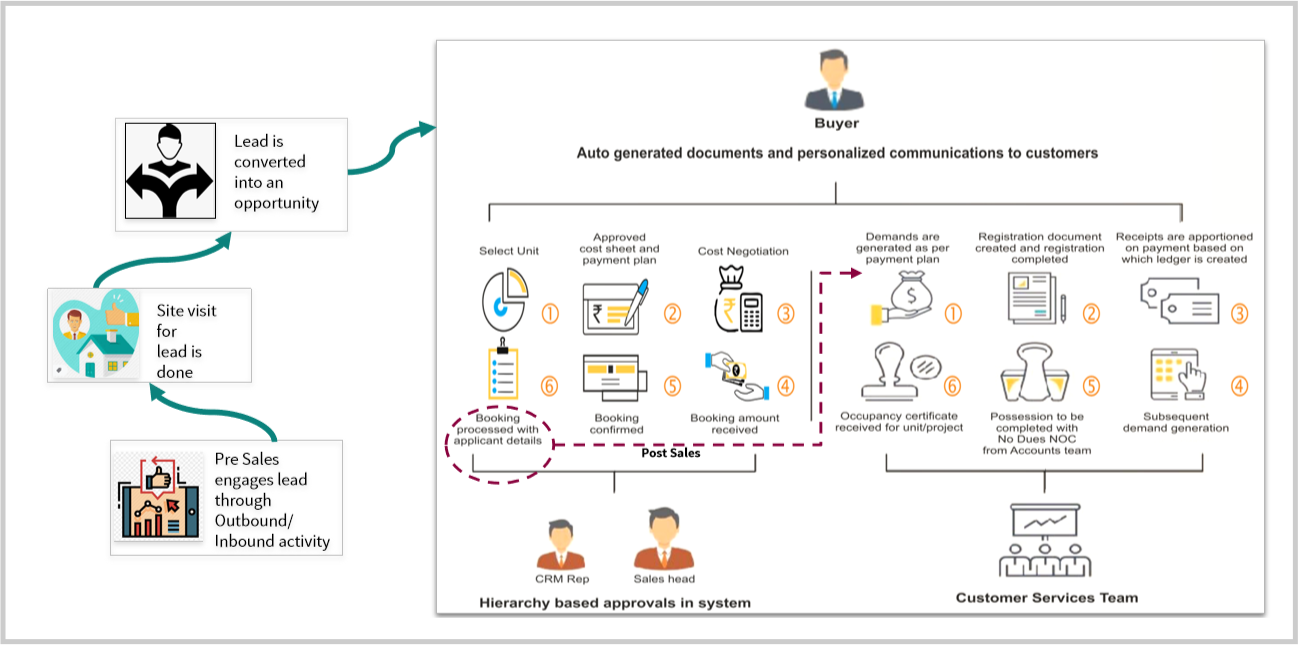 As soon as a customer pays the token amount to confirm interest in buying the property, Booking is processed with the applicant, co-applicant and other mandatory details of the customer, and Post Sales journey begins.
Customer Journey touchpoints
As a customer, communication plays a key role throughout the entire journey till possession of the unit and thereafter until society formation. Keeping the customer Informed and Involved plays a vital role in the relationship between the customer and the Real estate developer. This will not only help the RE developer to build Trust with customers but also pays rewards in the long run in terms of Loyalty and References.
At the same time, RE developers also have to ensure that the processes and communications are less people-dependent so that there are no manual errors or miscommunications. Predefining the touchpoints, communication templates (SMS, WhatsApp, emails), and document formats, design, and contents will ensure a smooth customer journey throughout the Post Sales lifecycle.
Key Features
The RE Post Sales solution addresses all of the below key features that a Real estate developer needs to consider while developing its Post Sales processes:
Personalized, automated, and timely communications

Easy document exchange and repository

Registrations and Collections tracking

Customer engagement throughout the journey

Reduces time spent by Sales on non-revenue generation areas
A video with all of the above features and more has been shared below to understand and relate to the overall CRM prototype
RE Post Sales CRM Solution
Solution Architecture
RE Post sales solutions in Salesforce have been developed considering that the CRM system will complement the ERP system to ensure hassle-free and smooth business process operations and at the same time a user-friendly and flexible system to operate.

Why Thinqloud?
The Thinqloud team has been able to revolutionize the usage of Salesforce as a CRM by Real estate developers and has been instrumental in the Implementation of processes throughout the lifecycle of the Real Estate sector.
Our team has worked with some good RE brands in India and has designed and implemented processes for verticals including:
Marketing – For Media Plan Approvals, Campaign and Lead nurture
Pre Sales – For Lead generation from Online and offline mediums, Auto assignments to team, and third-party integrations (Whatsapp, CTI, etc.)
Sales – Site Visit modules, Bookings, and Quotation creation, Creation of Cost sheets and payment plans along with Approval process
Post Sales – Auto creation of Agreement document, Demands, and Receipts modules, Financial ERP integrations, Possession module
Post Possession – Case management for Maintenance (Post Possession) issues
Data Analytics – Customized reports, management dashboards, Tableau reports
Conclusion
Using Salesforce for real estate can revolutionize the industry and help to understand customers' preferences and needs deeply. This excellent sales, marketing, and client service system will dramatically improve organizational processes, as evidenced by the Salesforce Real estate reviews. However, it must be implemented correctly and in full accordance with corporate goals.
Thinqloud helps you achieve that and offers customized as well as ready-to-deploy solutions Salesforce for real estate agents. Our competitive edge is our rich experience in the real estate industry. We deeply understand the industry and will deploy a real estate CRM considering all the features of your company.