What information do nonprofits need to capture and maintain of their donors and the donations they give?
For nonprofits, having the right data on hand is especially crucial. When we have an accurate view of the makeup of your community and who the donors actually are, we will be able to execute more effective donor research and plan a better fundraising strategy.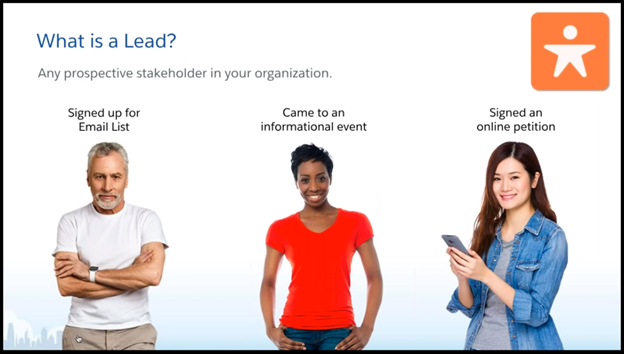 Object Name: Lead
Features Available
Setup Lead
Lead Creation
Lead Auto Assignment Rules
Duplicate Check/Merge Duplicate Leads
Send List Mail
Lead Mapping
Convert Lead
Import Leads
Add to Campaign
Fields
Demographic information like First name, Last name, Phone, Email, Address
Lead Source –
Advertisement
Customer event
Employee referral
Purchased list
Trade show
Webinar
Website
Why Lead Source is Important?
To understand which marketing channels your best quality leads come from, you need to track your lead source.
Lead source is a critical piece of data you need in order to assess the value of your marketing campaigns and part of proper lead management.
Track your lead source to better understand the leads
Tracking your lead sources will help you better understand prospects
Lead Status –
Open
Working – Deduped and attempted contact
Archived – No Interest
Archived – Developing / Nurturing
Bad Data
Contact – No Opportunity
Contact – Current Opportunity (e.g. Salesforce already has an active opportunity at this account, so don't call them)
Contacted – Recent Activity (e.g., sales has contacted this person in the last 30 days, so no marketing contact)
Qualified – Turned into Opportunity
Why Lead Status is Important?
Lead status lets you know that nothing has happened, yet. This should bring to your attention that you have a new, unqualified lead in your pipeline that needs processing.
You will need to decide how long a new lead stay in open-status before someone on your team has started working on qualifying the prospect.
Lead Owner – Assigned owner of the lead.
Why Lead Owner is Important?
Lead ownership could be changed by Lead Assignment Rules.
Salesforce will evaluate all assignment rules and assign accordingly.
Is a particular person that works with a lead. A sales rep can either assign a lead owner for each lead or place a number of leads in a queue and let a sales team decide on the lead ownership.
Lead Record Type
Record types help you differentiate between sales leads and registered deals, assign specific page layouts for different processes, and simplify reporting for each type of record.
Ratings- Indicates value or prospect of the lead, for example, Hot, Warm, and Cold.
Why Ratings Field is Important?
It allows the sales reps to focus on the hot leads.
Industry – Primary business of lead's company
Agriculture
Banking
Communication
Chemical
Education
Company- Name of company with which lead is affiliated
Annual Revenue- Amount of annual revenue at lead's company
Lead Division- Division to which the lead belongs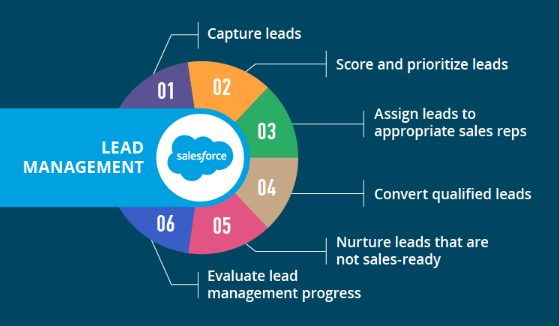 Once the Lead has gone through the selection process and if he/she is selected then we can convert this lead into Contact.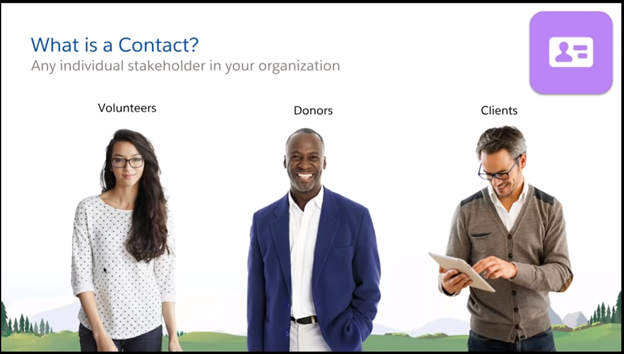 Features Available
Contact Merge
Send List Email
Relationship Viewer
Import Contact
Add to Campaign
To Capture the Contact data we have Contact Object in salesforce
Preferred Phone– Business, Personal
Which phone number will be used for most communications involving this Contact?
Preferred Email– Business, Residence and Cell
Which email will be used for most communications involving this Contact?
Nationality
Designation
Designation defines the priority for the area in which donor wants to spend his/her donated money for ex. Israel Only, Hospitals only, Chicago only etc.
Volunteer Availability– Weekdays, Weekends, Morning, Afternoon and Weekly
Indicates Volunteer Availability means in Morning/Afternoon etc.
Volunteer Hours- Total number of Volunteer Hours with a Status of Completed.
Volunteer Skills- Computer usage, Manual labour, Marketing, Fundraising, Event Planning and Landscaping
Indicates which skills this Contact has. You can filter on skills when you look for volunteers for particular Jobs.
Volunteer Status-  Active, Inactive, New Sign Up and Prospective
Web Source- Web Manual Bulk Web Donate
Offlist Reason- CAUS Data, Contributor Other, Spouse, Moved, Deceased, To Be Deleted, Donor Request, Duplicate Account, Cannot Locate, Event Guest, Defunct/Merged/OutOfBus and Longterm Nonpayment
Offlist Date-
Deceased- Indicates the Contact is deceased.
Deceased Date
Validation – Deceased Date should not be greater than today's date.
By capturing this data, we can track and can help streamline our fundraising efforts and aid in creating donor-specific engagement opportunities. Seemingly insignificant information like a donor's occupation, average gift, or frequency of giving helps us to determine things like how much to ask for and when to ask for a donation.
Data provides you with the opportunity to give the donor a truly personal giving experience.
Object Name: Account
In Salesforce 2 types of Accounts exits
Household Account
Organization Account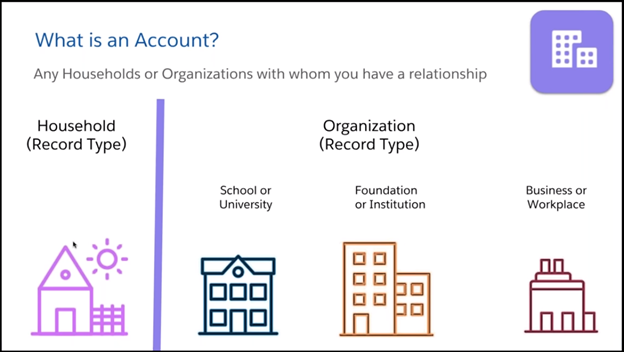 Features Available
Manage Household – Add/Remove Contacts, Setup Address
Sessional Address
Rollup Fields – Donation Information and Donation Totals
Fields
Account Name-
Account Source- Web Donate Web Registration.
Account Site- Information about the account's location, such as single location, Headquarters, or Branch.
Account Type- Continuity Fund Country Club Endowment Estate Event Venue Firm Foundation Hospital Hotel In Memory/HNR.
Business Email and Business Phone.
Funding Focus- Animal Welfare Arts and Culture Capacity Building Education Environmental Health Services Human Services.
The general program area(s) that this organization funds.
Industry- Consumer & Industrial Products, Energy & Resources, Financial Services, Life Sciences & Health Care, Manufacturing, Public Sector, Real Estate & Construction Technology, Media & Telecommunications.
Primary Contact field (on Account object) specifies the primary point of contact for Household Accounts.
Why it is important?
Designate a Primary Contact for a Household.
It help prevent from sending multiple donation solicitations to the same household.
NPSP designates the first contact created as the primary contact.
Primary Contact Can be changed at any time.
Use Manage Household to:
Designate household primary contact (email and mailing address)
Override:
–  Automatic household name
– Formal Greeting
– Informal Greeting
– Address Management
– Set Address
– Change Address
– Create New Address
Specify a Seasonal Address
NPSP also allows you to track a Seasonal Address with start and end dates for a contact or account, so that the Seasonal Address is automatically set as the Mailing Address at the specified start date.
When the end date is reached, NPSP copies the original address back to the Address fields.
Fields–
Seasonal Start Month
Seasonal Start Day
Seasonal End Month
Seasonal End Day
Why Seasonal Address Fields are Important?
Choose this address type if you have a repeating yearly schedule requiring your bill to go one place part of the year and someplace else another part of the year.
If a Donor has given a fund and in reply of that if the particular organization wants to send Gift or Receipts then it should be send on correct address.
A Donor Management System Helps You Be Strategic in Fundraising
When past donors, current donors, and even prospective donors' data all exist in a central location, your organization is able to think and operate strategically. This centralized data lets you segment and sort both potential and current donors in order to leverage them strategically.
It also makes it easy to create in-depth profiles comprising the essential information for anyone who interacts with your organization, whether it is a donor, a prospective donor, or a volunteer.
NPSP provides a strong and rigid way to maintain relationship between different donors in the non-profit. Relationships are key elements that every non-profit organization keeps track of. NPSP maintains the relationship broadly categorized in two categories:
Relationships are actual human relationships that exists between two humans. Thus, we can maintain the actual relationships between two donors in NPSP using Relationships.
For ex., Father-Son is a type of individual relationship.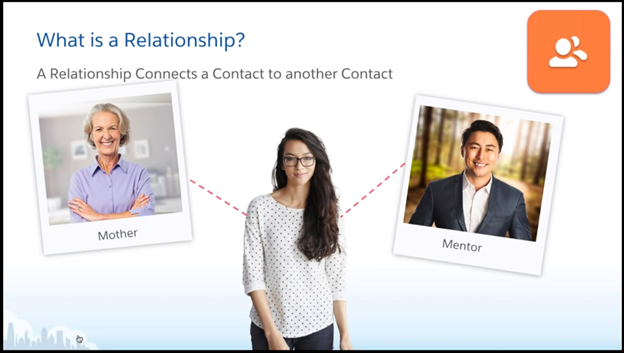 Object Name: Relationship
Fields:
Contact- Validation- Contact and Related Contact cannot be the same
Related Contact
Type- Husband, Wife, Father, Mother, Child, Client
Start Date and End Date
Validation- Start Date should not be greater than End Date
Status- Current and Former
Relationship Explanation
Related Opportunity Contact Role- Soft Credit Solicitor Tribute
Affiliations provide a way to maintain organizational relationships i.e. the relationship between an organizational donor and an individual donor in the system. These can also be termed as Organizational Relationships in NPSP.
For ex. Employee-Employer, relationship is a type of organizational relationship.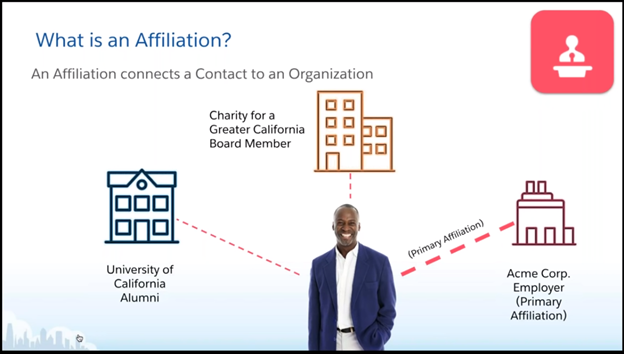 Object Name: Affiliation
Fields
Organization – The Organization Account connected to the person
Contact – The person connected to the Organization Account, Julia.
Role – The function the person fills at the organization.
Status – Indicates if the Affiliation is current or a connection the constituent had in the past.
Start Date – The date the person became connected to the organization.
End Date – This field should be empty when the Affiliation's Status is set to Current. When the connection is in the past, update the Status field to Former and enter the date the person's connection to the organization ended.
Primary – This checkbox indicates Skidoo is Julia's Primary Affiliation
Related Opportunity Contact Role is related to NPSP soft credit automation based on a Contact's Affiliations.
Description – Any additional notes you want to preserve about the Affiliation.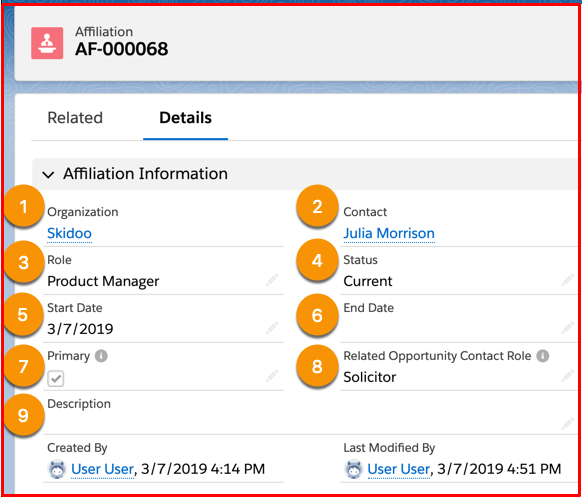 Examples of validations to ensure important data is entered
Type and starting grade level are required when linking to school accounts only
Job role/title and job level is required when entering employment type affiliations
A start date is required for programmatic affiliations
The start date should never come after the end date
Linking Soft Credit Allocations with Affiliation and Relationships
Soft Credits are credits for the driving forces behind the pledges. Pledges are usually influenced by some people from the societies like Household Members, Colleagues etc. That means the person who influences will receive soft credit for the donation made by the person who was influenced.
On Relationship and Affiliation object below mentioned is important
Related Opportunity Contact Role- Influencer, Solicitor, Soft credit
Using some Custom Objects we can capture some Donor information which will be important
Create and Manage Donations
Describe how the Non-profit Success Pack uses Opportunities to track donations.
Donation/Gift/Grant= Salesforce Opportunity Object
– Donation
– Grant
– In-Kind Gift
– Major Gift
– Matching Donation
– Membership
– Individual
– Household / Organization ( Account )
– Recurring
– Open ended or fixed length
– Frequency (monthly / yearly)
– Start and End Date
– Soft Credit
– A donation that someone did not actually make, but are credited as being an influence on the donation
– Example: Employer matching gift
Create a donation from an individual
– Required Fields
– Opportunity Name (automatically filled in)
– Close Date (default to today)
– Stage
– Enter Posted as the Stage (it's equivalent to Opportunity Closed /Won)
Create a donation from an organization
– Required Field
– Opportunity Name
– Account Name
– Close Date
– State
Describe how donation "rollups" work in Salesforce
– Opportunity Rollups calculate totals from all related records
– Donation Information: Quick overview
– Donation Totals:
– Rollups on Contacts include Soft Credits
Create Payments and Recurring Donations
Payment lets you define installments for a single donation
Recurring Donations are multiple donations over a period of time (or indefinite)
Create payments (Related Field On Opportunity)
Default Max 12 Payments – can up updated on NPSP Settings Page
– First Payment Date
– Interval
– Payment Method
Write off Payments to cancel a scheduled payment
If the donor discontinues payments all together
– Edit the opportunity to update new final total
– Write off all remaining payments
– Change stage to Posted
Connect and Cultivate More Meaningful Relationships
A fundraising event (also called a fundraiser) is an event or campaign whose primary purpose is to raise money for a cause, charity or non-profit organization.
Fundraising – it is NOT about the money …
It is about …. What you DO with the money!
Nearly all of the nonprofits are dependent on fundraising efforts to doing well for the causes that they support. However, making use of technology can help in the following ways:
It will help you save time in doing redundant tasks
We can add automation to provide the donors with more up to date information – to have more engaged donors
We can save costs by making use of technology
All the above will translate into a nonprofit doing better for the causes that they support.
The following are some keys for fundraising for any nonprofit:
Identifying the donors that connect with your cause
Make an ask from the donors to support your cause
Develop and nurture the relationships with your nonprofit
While Managing the Donor and Donation Data some of the items needs to be take cared
Eliminate invalid contact information whenever it is encountered
Delete or merge duplicate entries to avoid wasting time and money
Remove inactive donor profiles that have not engaged with your work in the past two years or so
Backup or archive your database on a regular basis
Create a schedule for conducting regular data audits